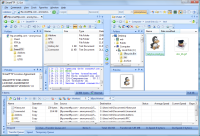 Overview
Smart FTP is an all-inclusive FTP (file transfer protocol), SMTP, FTPS, SSH, and Terminal client that facilitates the transfer of information to and from Web servers using the latest state-of-the-art encryption methods. This software makes it easy to upload data from your computer's hard drive to the Web server that hosts your site, and is therefore a must have for any web developer that needs to simplify their content publishing/maintenance tasks.
Installation
At a file size of a little more than 14 MB, SmartFTP downloads and installs within a few minutes using an intuitive setup guide that even the most novice computer users can feel comfortable with. This software is compatible with Windows XP, 2003, Vista, and 7.
Interface
The SmartFTP user interface has a visual appearance that is similar to many other FTP clients because it is compartmentalized into two main quadrants – one devoted to your hard drive's files/folders, and the other devoted to your Web server's directories. At the bottom of the main window there is a section which displays files that are currently placed in the transfer queue, where you can rearrange the order of queued objects and allocate bandwidth priority.
Pros
Makes it easy to backup, synchronize, download, and upload files on your hard drive and web server
Drag-and-drop functionality makes it easy to pull files from Windows Explorer into the user interface
Lets you remotely edit files that have already been uploaded to your server
Integrated search engine makes it possible to quickly find files and folders that are located within server directories
Transfer queuing feature lets you schedule operations and supports an unlimited amount of threads simultaneously
Integrated proxy/firewall support that is compatible with Socks5, SOCKS4A, SOCKS4, and HTTP proxies
Includes support for UTF-8 documents
Integrated web browser makes it easy to view the changes you've made in real-time
Provides multilingual support for more than 20 major languages
Automatically reconnects and resumes broken transfers to maintain the quality of uploaded/downloaded files
Includes an FTP command line, as well as the ability to create custom commands
Integrated backup tool makes it easy to keep all of your files safe by preventing unnecessary data loss, while also making it easy to revert to previous server states
Utilizes the latest encryption technology to prevent data interception